IT IS WHAT IT IS 
Howard Schoor's art will be on display at Hotel Tides from June 14 – July 12 of 2020. 
#212 PINKY – 36" x 36" 
Spackle paste, acrylic paints and acrylic markers on stretched canvas
#19 Shades of Blue – 20" x 16" 
Acrylic markers with thin spackle paste overlay (muted) on stretched studio canvas
#319 New Neat Doodle #11 – 24" x 24" 
Spackle paste, acrylic paints and acrylic markers on stretched canvas, vibrant colors
#241 A Little Encouragement 24" x 20" 
Acrylic paint, spackle paste and acrylic markers with light spackle overlay 
#508 Sunset Meets the Sea – 24" x 24" 
Spackle paste, acrylic paints and acrylic markers on stretched canvas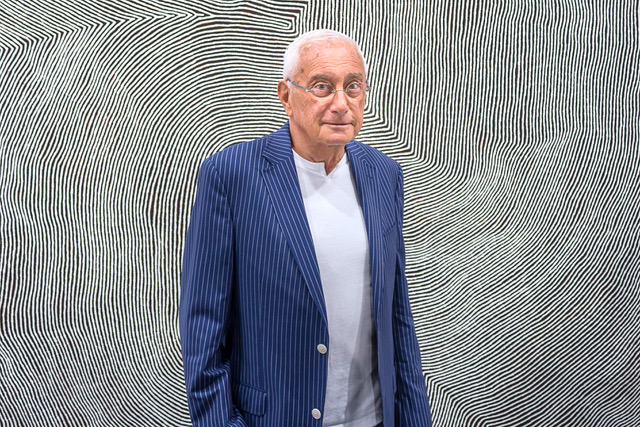 ABOUT THE ARTIST 
At 81, Howard Schoor has had too many life acts to assign a number to this one. Trianglism is his personal art/life movement. Schoor's mold is that of other self-taught originators, existing apart from the art world establishment. A phrase widely attributed to art historian and author Roger Cardinal, "outsider art" is described by New York Times writer Roberta Smith as encompassing a "certain purity." Smith went on to describe it as "an unstoppable need to make art unsullied by the 'insider' art world, with its fine-art degrees and commercial machinations that always struck me as rather hoity-toity."
Schoor's Trianglist works embody inescapable purity. The art is unsullied. His medium is spackling paste, oils, acrylics and markers on canvas.
Howard Schoor is a classically trained and licensed professional engineer. He built and led one of the United States' largest regional engineering firms from 1967 to 1992 in Manalapan, NJ. Daily, he worked with – and sometimes against – the triangle. Today, the triangle remains the focus of his art conscious. Then as now, Schoor leverages their angles and, as he discerns it, aesthetic, to shape and deliver compelling visual narratives. His Trianglist works evidence his love of architecture, forms, angles and shapes, and his belief that "less can be more." Trianglism tells a story. The Trianglist, Schoor, engineers emotion.
Howard Schoor was an art consumer long before he was an art creator. For a long time he, too, succumbed to the "hoity-toity" and "hocus-pocus" commercial machinations of the "insider" art world. As a consumer of important works, he learned quickly the arbitrary nature of the contemptible phenomenon called "art value." He was driven to, more than merely arriving at, the decision to return art value to its rightful place. "Pleasure became my barometer. If the art pleased me, it was valuable." Emboldened, he began to create.
New rising local artist Howard Schoor lives and creates in Jupiter, Florida; Bethel, New York and Asbury Park, New Jersey.
TRIANGLISM 
Trianglism occupies an original art space carved by Howard Schoor. At 81 years young, Schoor acknowledges his art is pleasing to the heart and the eye. In his estimation, this is the art's ultimate value. It is what it is.
Howard will be available for interviews or private showings by appointment – 732.740.8797